The perfect weekend getaway in Rotterdam
Rotterdam is a lively city with modern and quirky architecture
Rotterdam is a quirky city between Amsterdam and Brussels. When I was interning in Brussels, I discovered that it was so easy to have a weekend getaway in any European city within a short train, bus, plane ride away. I spent a few weekends in the beginning taking the trains to/from Amsterdam and noticed that I'd pass Rotterdam halfway. I decided to look up what Rotterdam had to offer and was enticed to spend a weekend there. What a cool city it was!
How to get to Rotterdam:
By Train: I took the train to Rotterdam from Brussels Airport and it took around 90 minutes on the local Dutch train. You can book your train tickets using the SNCB Europe App and scan the QR code at the ticket gentry OR purchase your tickets from the counter at the airport's train station. You can also take the train from Amsterdam Schiphol airport or Amsterdam central.
Flixbus: Flixbus has routes that go to Rotterdam. These buses are comfortable and are inexpensive ways to travel around Europe.
The photos above were taken from the train heading to Rotterdam for a weekend.
Upon arriving at Rotterdam Central station, you notice the modern architecture almost right away. This city lost a lot of buildings during World War II so they had to rebuild the city. Its like an architect's playground. Though the buildings are architectural art in itself there is quite a bit of urban planning involved to make the city not look like an architectural experiment. Somehow all the buildings mesh well together.
Curly Fries with Satay sauce (creamy Indonesian peanut sauce - usually used as a dipping sauce for chicken skewers)!!
YUMMY!
When in The Netherlands, try the local fried greasy junk food. I was a bit lost and hungry inside the large Rotterdam Central station and saw a Smullers, similar to Febo in Amsterdam, it is a fast food joint that serves burgers, fries, kroket, frikandel, kaassouffles, bami, and more! They will put the piping hot snacks into an automat and you put the correct change for the snack then the door opens. Voila! You can enjoy your snack right away.
Fast, cheap, efficient, greasy, and indulgent.
The cuisine in Holland is very influenced by the former colonies so there's quite a bit of Indonesian and Surinamese restaurants. However sometimes you get the unique fusion mix and you get to order your Frites with Satay Sauce! I had my childhood in Jakarta and loved Satay sauce so would put it on everything. Frites with Satay sauce is genius and whenever I'm in Holland, I order frites with Satay Sauce.
The central areas of Rotterdam are within walking distance of each other so all you need to get around is a good pair of walking shoes. I didn't have much time to venture to other areas of Rotterdam so I just walked around the central area.
You can rent bikes to get around the city like the local residents do and it is not as congested as heavy biking cities like Amsterdam or Copenhagen that you won't feel like you're being trampled. The bike lanes are very wide easy to navigate. I also saw a lot of bicycle parking structures which were quite impressive.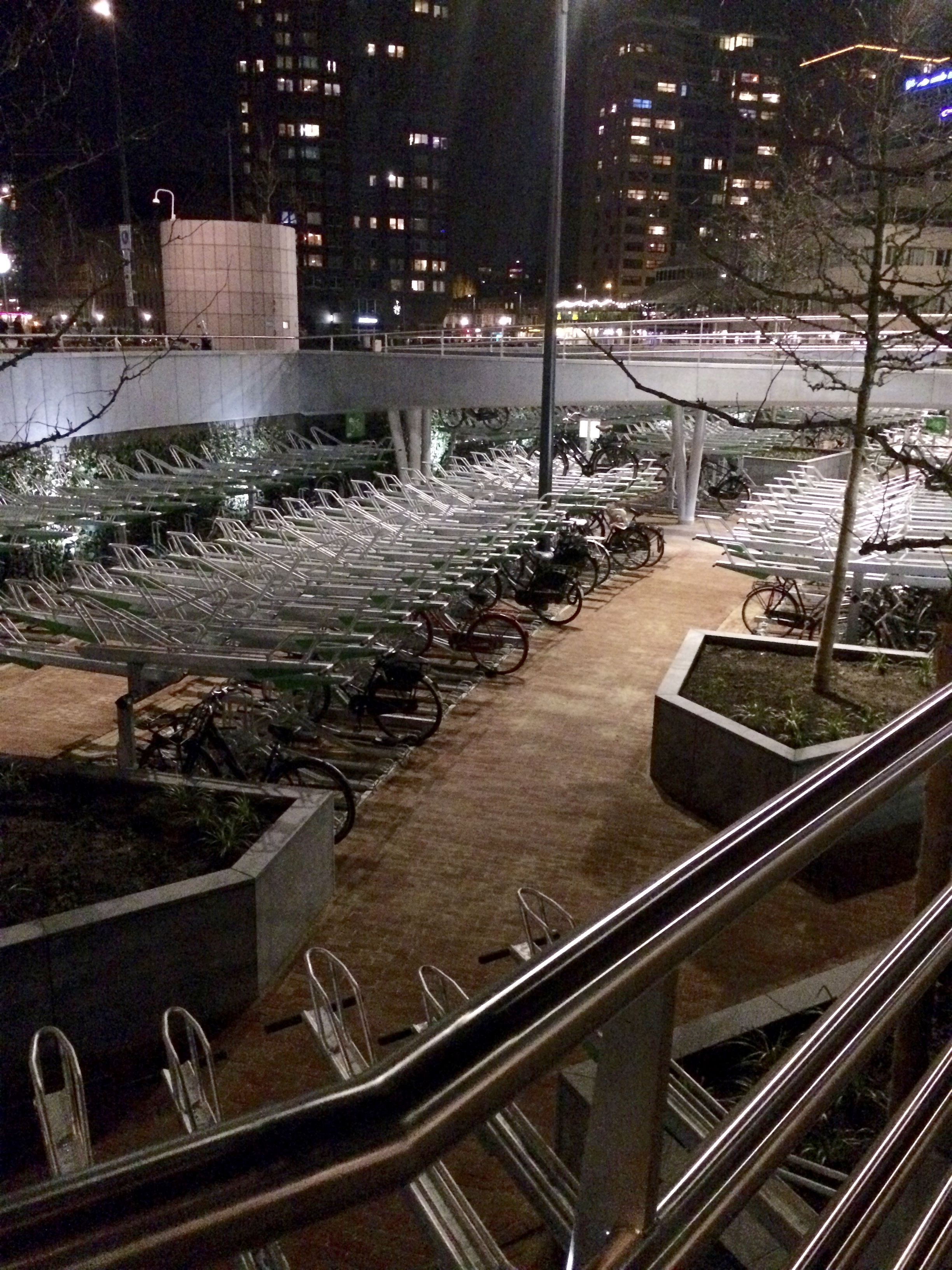 Bicycle parking in Rotterdam
Rotterdam Blaak. Bicycle parking is serious business...
As I mentioned earlier the quirky architecture of Rotterdam are really the highlight of this city. Check out the Cube Houses/Kijk Kubus, Witte Huis, Erasmus Bridge, and Markthal.
Markthal is probably my favorite market!
This huge building is a marvel in itself. A mixed use building of offices, residential units, and most important an indoor market with foods from around the world. The variety available is really abundant and what makes this my favorite market is the organisation, cleanliness, friendliness of the vendors, and of course the variety of offerings. It was so hard to choose where to eat! There are also restaurants and wine bars lining the outer rim of the market so you can have a nice sit-down meal.
I loved looking up at the ceiling and checking out the art of food, animals, insects but also wondered about the residents of the building. They probably have a lot of fun people-watching in the market. It would also be so convenient to live in an apartment just above Markthal.
The next morning, I woke up early for a stroll around Rotterdam and in search of a nice brunch spot before checking out Boijman's museum of Modern Art. I found a place called Dudok on Yelp and decided to check it out.
A popular brunch spot for residents so come early or call ahead for a reservation.
I ordered a black coffee, Dutch pancake with bacon, and fresh mint tea. Seriously the pancake with bacon embedded into the batter was so delicious! Salty from the bacon, sweet from the syrup, and soft, dough, batter for the pancake was the perfect Dutch Sunday Brunch dish!
According to their website it looks like there are locations in other cities in The Netherlands.
Museum Boijmans Van Beuningen
If you ask me what my favorite modern art museums, I would answer Tate Modern in London, Museum Boijmans in Rotterdam, and MOMA in New York City.
I was honestly blown away by the exhibits at Boijmans. Salvador Dali, Degas, Yayoi Kusama, and more have their art exhibited here. The museum has quite the collection and the gardens just beyond the museum is stunning as well. There's a modern design and architecture museum across the street that I didn't have time to get to because I spent a lot of time wandering around Boijmans. If you like modern art, you should definitely visit Boijmans Museum.
Rotterdam is a great Dutch city to visit for a weekend getaway. You'll be able to see quite a lot of things and still have time to slow down, unwind, wander through the streets, see art, and eat some good food.