Stockholm: The nearly perfect Scandinavian city for ALL seasons
I love Stockholm!
If there's a city that I can't seem to get enough of it is Stockholm. This city has so much charm, beautiful nature, beautiful architecture, and beautiful people. I have withheld from writing about my favorite European city for a while because there is so much to write about. In my honest opinion, one can go to Stockholm any time of year. Yes, including the bitter cold winter months in Scandinavia. There's a Swedish saying... "There's no such thing as bad weather, only bad clothes!"
The four seasons of Stockholm...
1. Winter
Sure the winter in Stockholm can be dark, cold, and there's snow on the ground. The air is crisp and feels refreshing after sitting inside in the dryness of a heated cafe, bar, or restaurant. The quiet calm pervades the city and its meditative lull during the winter months can bring ones' mood down if you're the type that gets affected by darkness then this is not the time for you to come. However, I seem to never make it to this Swedish capital during actual Christmas season and its definitely on my bucket list because sipping glögg, eating lussekatter (saffron buns), singing Sankta Lucia songs, drinking way too much julmust, and eating julbord sounds so quaint and mysigt (cozy). Ok... I have actually done all these activities but not in Stockholm or Sweden for that matter. And that glögg is so warming and really makes the Christmas season so magical. I prefer glögg over glühwein but don't tell the Germans.
Contrary to what people may think, winter in Scandinavia is not all bad with all the cozy places to hide out from the bitter cold and the multiple gatherings that just warms your heart. It is also a very peaceful time. There's something so soothing about the cold and when the snow falls on Stockholm, the city ends up looking a little like a snow globe over Gamla Stan.
Places to check out in Stockholm during the winter: Gamla Stan, Nordiska Kompanieet, Kungsträdgården - all of these spots are particularly Christmas-y
2. Spring
With the days getting longer and the snow thawing, Spring arrives in Stockholm.
When spring arrives in Stockholm, the air is still a bit cold but it does not bite or require a full cover up due to winds and sometimes snow. There's a bit of dampness from the winter thaw but there are more daylight hours and people feel compelled to venture outside a little longer. To be honest, I'm a bit of a night owl so the darkness does not bother me. The best thing to do during Spring time is to check out the cherry blossoms at Kungsträdgården. Really stunning to see them all in bloom! When I was there to see the cherry blossoms, there were loads of people dressed up in Anime costumes, Hare Krishna, tourists, and people exercising on stationary bikes for a promotional event! Needless to say, it was an interesting people-watching experience.
Also, if you're a tap dancer. Stockholm is the host for one of the largest tap dance festivals in the spring. Stockholm Tap Festival is really a lot of fun and if you're a tap dancer and planning a trip to Stockholm in the springtime, it would be a shame to not at least sign up for some workshops while you're there. I participated in the festival in 2015 and had so much fun dancing as well as jamming with other dancers.
3. Summer
Scandinavian countries come alive during the summer months. When the sun comes out, everyone takes advantage and goes out!
The sunlight seems endless and hardly sets in the height of summer. One of the most beautiful times of the year to visit Stockholm is in the summer because you can take a ferry out to one of the many islands in the archipelago. I've visited Fjäderholmarna and Sandhamn on seperate summers. Both were stunning and so typical of the Swedish summer experience.
On my bucket list is to experience Midsommer fest (Midsummer festival) in the Swedish countryside. There's a peculiar tradition that Swedes do with a maypole and dance around like frogs. They also like to drink a lot and sing in between shots. The reserved Swedes go all out in party mode in the summer. Of course, this kind of party is not easy to get invited to... you must know someone well enough to get an invitation to their summer house in the Swedish countryside.
But if you do find yourself in Stockholm in the summer there are loads of summertime activities. Head out to the islands, bring a towel, some cold Swedish cider or beer, and purchase some items to make open faced sandwiches for a nice little picnic by the sea. Check out Fjäderholmarna for the closest island to the city or check out Sandhamn, Möja, Vaxholm, Grinda, and Finnhamn. Alternatively at the open air museum of Skansen at Djurgården, you can also experience a bit of the Midsummer festival traditions.
Then the weather changes around September... the air gets crisper, the colder wind settles in, the leaves start to change colors. Fall is truly my favorite season of all. I love taking long brisk walks to admire the change in the leaves. Its cold enough to put on a nice peacoat, scarf, gloves but not cold enough to gear up in snow boots, winter layers, hat, etc. Especially after a nice rain, the air feels fresh, the ducks quacking in ponds, etc. There's a sense of coziness in the air. Snuggle up with a nice cup of black coffee and cake for an afternoon Fika. My favorite spots for Fika in Stockholm are Snickarbacken 7, Östermalms Saluhall, Kaffeverket, Gast, and Fotografiska Museet (Photography museum).
I took long walks in Djurgården during the fall on one of my trips to Stockholm and it was just stunning with all the leaves changing and everyone was either running, biking, walking, or just sitting and enjoying the fall colors. You can also warm up with a nice plate of meatballs, potatoes, lingonberry jam, and cucumber salad washed down with a glass of full bodied red wine!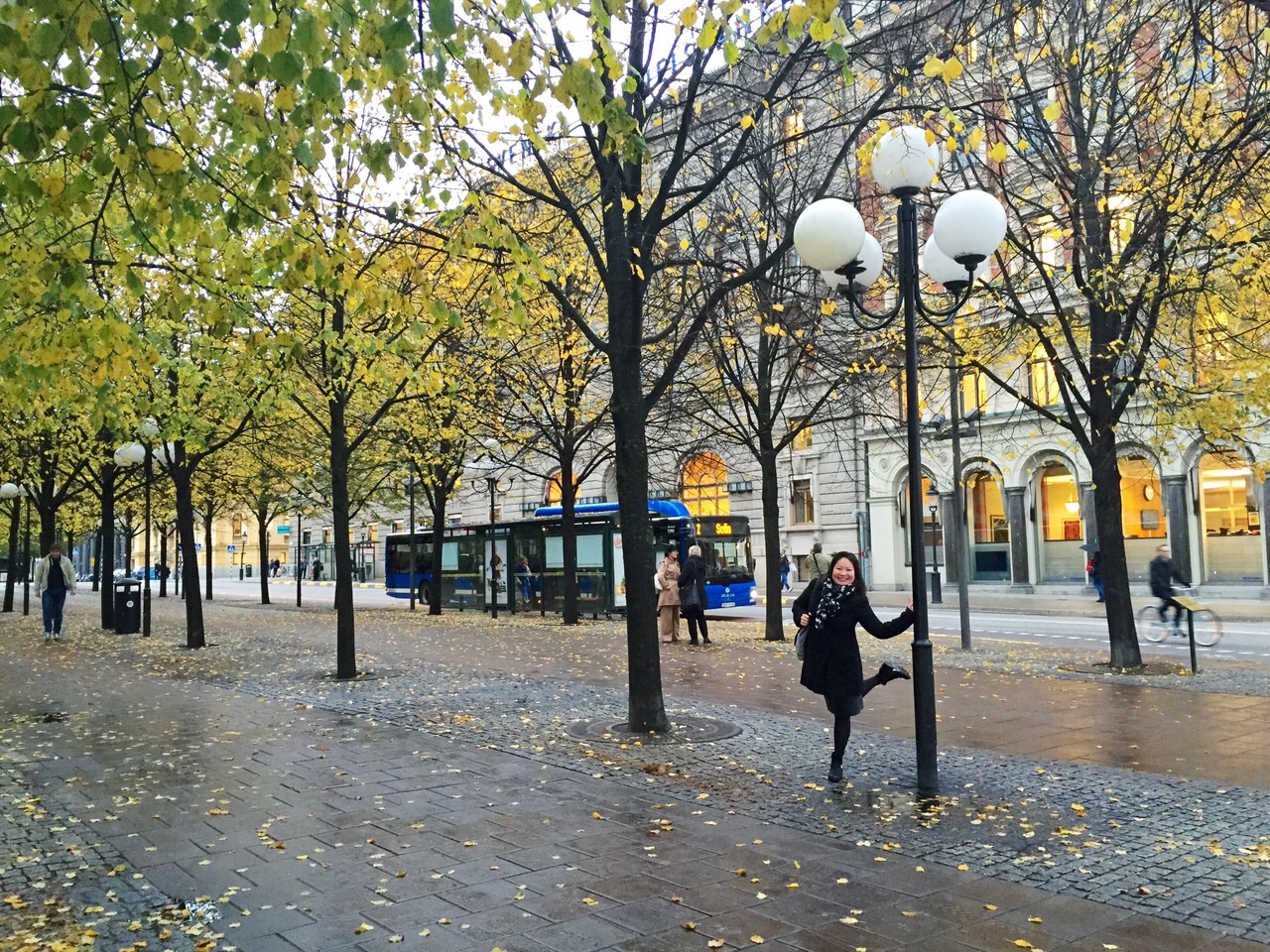 Stockholm is really a stunning Scandinavian Capital city that is nearly perfect. Romanticism aside, there is no such thing as a perfect city. Seeing the world through rose-colored glasses is much more pleasant and perhaps the reason you're reading this post is because you are planning a trip to this beautiful city. I have been lucky to experience it through all the seasons in my frequent trips there because I love it so much but with any travel, one must be vigilant of their surroundings. Stockholm is a safe city to travel solo and Stockholmers are very polite, respectful, reserved, friendly, attractive, well educated, and speak good English (of course if you pick up some Swedish language skills then they are happy to let you practice as well!)
All opinions and pictures are property of Alaine Handa except otherwise stated. All rights reserved. (c)